Jack Kerouac Bibliographie
---
Rédigé le 1 septembre 2012
Jean-Louis Kerouac, dit Jack,  est né en 1922 à Lowell, Massachusetts, dans une famille d'origine canadienne-française.
Etudia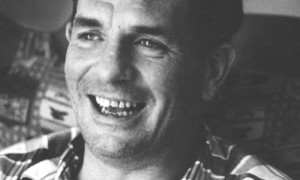 nt à Colombia, marin durant la Seconde Guerre mondiale, il rencontre à New York, en 1944, William Burroughs et Allen Ginsberg, avec lesquels il mène une vie de bohème à Greenwich Village. Nuits sans sommeil, alcool et drogues, sexe et homosexualité, délires poétiques et jazz bop ou cool, vagabondages sans argent à travers les États-Unis, de New York à San Fransisco, de Denver à La Nouvelle-Orléans, et jusqu'à Mexico, vie collective trépignante ou quête solitaire aux lisières de la folie ou de la sagesse, révolte mystique et recherche du satori sont quelques-unes des caractéristique de ce mode de vie qui est un défi à l'Amérique conformiste et bien-pensante.
Après son premier livre, The town and the city, qui paraît en 1950, il met au point une technique nouvelle, très spontané, à laquelle on donné le nom de « littérature de l'instant » et qui aboutira à la publication de Sur la route en 1957, centré sur le personnage obscur et fascinant de Dean Moriarty ( Neal Cassidy). Il est alors considéré comme chef de file de la beat génération. Après une voyage à Tanger, Paris et Londres, il s'installe avec sa mère à Long Island puis en Floride, et publie, entre autre, Les Souterrains, les clochards célestes, Le vagabond solitaire, Ange de la désolation et Big Sur.
Miné par la solitude et l'alcool, Jack Kérouac est mort en 1969, à l'age de 47 ans. (Folio)
Ses ouvrages en français:
Aux éditions  Gallimard:
Sur la route – 1960
Docteur Sax – 1962
Les clochards célestes – 1963
Les souterrains – 1964
Big Sur – 1966
Les anges vagabond – 1968
Le vagabond solitaire – 1969
Satori à Paris – 1971
Vision de Gérard – 1972
Anges de la Désolation – 1998
Vraie Blonde, et autres –  1998
Vieil ange de minuit – suivien de Citecitecite et de Shakespeare et l'outsider  – 1998
Lettres choisie (1957-1969) – 2007
Sur la route, le rouleau original – 2010
Vision de Cody -2012
Aux éditions Christian Bourgois:
Vanité de Duluoz
Visions de Cody – 1990.
Mexico city blues – 1976
Aux éditions La Table ronde:
Pic – 1988
Avant la Route – 1990
Le livre des Haiku – 2006
Livre des esquisses (1952-1954)-  2010
Autres éditeurs :
Le Livre des rêves -1977 – Flammarion
L'Écrit de l'éternité d'or-  1979  Éditions de la Différence
Tristessa -1982-  Stock
Girl Driver – 1983 – Denoël
Maggie Cassidy – Stock – 1984
Mexico City Blues – 2006 – Points
Underwood Memories -2006 Denoël
Sur Kérouack:
Jack Kerouac par Yves Buin chez Gallimard
Dans les roues de Jack Kerouac : Portraits d'une Amérique nomade- Christophe Cousin
Sur la route Again – Aux etats- Unis avec Kérouac – Guillaume Chérel
Je compte lire tous ses livres petit à petit, donc j'ajouterai au fur et à mesure le lien vers ma fiche de lecture.
Commander les livres de Jack Kerouac Sur Amazon